Pairing drinks and desserts is tricky. Sweet-on-sweet can be cloying, while straight spirits, or complex cocktails, or many wines clash in other ways. Which is why I'm grateful to Craig Adcock for introducing me to what has to be one of the most satisfying matches ever: his Jude's Kansas City Rum Cake with Del Maguey's Crema de Mezcal.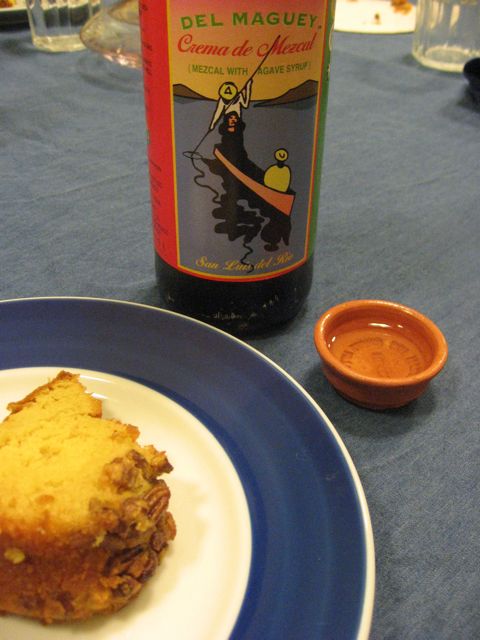 Adcock's rum cakes are buttery rich, coated in a sweetly crunchy, pecan-studded rum glaze. They are, in a word, delicious. When I wrote about Adcock for the Kansas City Star a year or so ago (KC Man's Rum Cake Wins Acclaim), I tried his cakes with Rhum Barbancourt's Reserve Special 8-year-old, since that's what goes into both the cake and the glaze. It's not really a sipping rum, though, and so I settled with coffee in the end.
Who would have thunk mezcal was the answer? Del Maguey's Crema is 90% San Luis del Rio mezcal (a spicy, citrusy, smoky powerhouse) blended with 10% unfermented, roasted agave nectar. The result is supple and sweet, with vanilla, tropical fruit and a hint of smoke. Adcock even brought tiny clay cups left over from a recent Slow Food event to sip it from. His rum cake (which is available mail-order) never tasted better.