Grünauer's Amontillado Flip got a lot of photo play in my winter cocktail piece in the Kansas City Star (Spirits of the Season) this week, but I realized only later that I'd given it short shrift in the article itself. That's a shame, because it's incredibly good.
Scott Beskow created the drink, which is at once nutty and sweet, spicy and dry, fresh and rich. How did he do it? Beskow says he was toying with chai syrup in the kitchen about the same time he revisited Robert Vermeire's Cocktails: How to Mix Them.
He swapped the cream sherry in Vermeire's flip for amontillado, worked in his chai syrup and garnished it with orange zest.
"I like seeing things used in the kitchen and making drinks with them," Beskow says. "The nutmeg on top is visual, but the orange makes sense, there's more of that in the aroma."
Beskow describes himself as misanthropic, at least compared to his affable co-worker, Mark Church. But misanthropes don't succeed in this business like Beskow appears to have done, or last as long as he has. Beskow worked at O'Doud's on the Plaza years ago, and then at M&S Grill in what he says were the early 2000s. He became a corporate trainer for McCormick & Schmick's, jumped up to head trainer and helped re-vamp the company's cocktail program—experience that proved useful in setting up Grünaeur's Wunderbar when the restaurant opened in 2010.
"With McCormick, setting up bar was like doing a puzzle, but you had all the pieces," Beskow says. "Here, there was an empty bar and no pieces."
Clearly, the pieces are now in place. Beskow's and Church's kitchen collaborations have resulted in drinks like the Flüssigkeit Strudel, a now-perennial favorite made with apple strudel syrup, dark rum, bitters, lemon juice and egg whites. There's the Apfelessig Shrub, made with a apple cider vinegar and Beefeater gin and garnished with house-pickled mushrooms. And the Kurbirinha, a lemony Caipirinha variant made with cachaça that's been fat-washed with pumpkin seed oil (a traditional Austrian ingredient).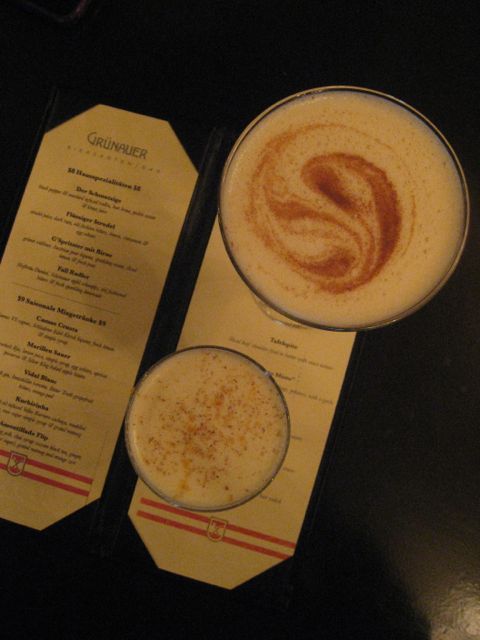 They're not just playing around. These guys make drinks that are grounded in classic flavors and technique yet adapted for the times and the setting.
But back to that Amontillado Flip. Flips date back to Colonial times, when they were made with an egg, sugar and cream batter and heated with a hot poker, according to Dale DeGroff. Later, flips shrank to fit a cocktail glass, using just one egg in a well-shaken drink, as per David Wondrich's Imbibe!
Here's how Beskow makes his version: Add 2 ounces Alvear's Amontillado sherry, 1/2 ounce chai syrup (recipe follows) and 1 egg yolk to a cocktail glass. Add ice and shake vigorously. Double strain into a cocktail glass, coquetier or coupe. Grate fresh nutmeg and orange zest over the top to taste.
For the chai syrup: steep four bags chai tea in 8 ounces boiling water for 10 minutes. Remove tea bags and add sugar, stirring until fully dissolved. Add a bit of vodka if you like to lengthen the shelf life.