Bright lights, a noisy crowd, microphones and cameras—such was the pressure on Michael Smith (Michael Smith and Extra Virgin), Jennifer Maloney (Cafe Sebastienne) and Patrick Ryan (Port Fonda) in their quest to win Food Fight 3, a benefit for the Children's Center for the Visually Impaired.
Each created three courses from a set "grocery list" that included hare, oysters, guanciale, green lentils, celery root, cucumbers and blood oranges. Each then had to incorporate a surprise ingredient—parsnips grown by local farmer Thane Palmberg—at the last minute. And each had to do it all in one hour.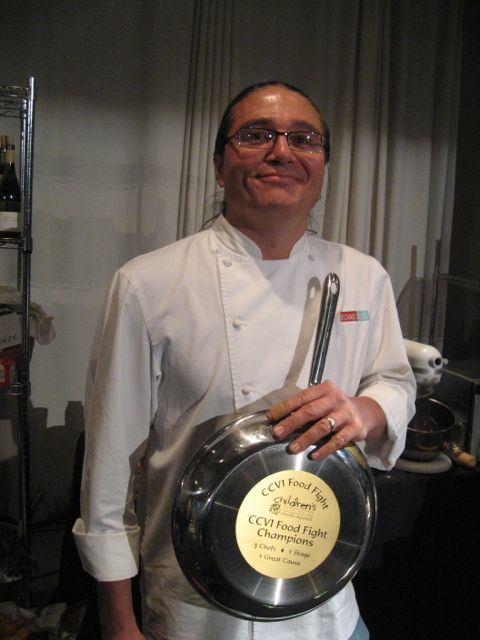 Smith got the nod from a panel of judges that included Celina Tio (Julian), freelance food writer and photographer Bonjwing Lee, Spaces contributor Darren Mark and food enthusiast Kevin Marsh, who won the bidding for the fourth seat. Jim Coley, wine director at Gomer's Midtown, was on hand to pair wines with each course. Toby Cook of the Kansas City Royals and Cellar Rat's Ryan Sciara hosted.
It proved a very different event than in year's past—more of a party, thanks to the stylish atmosphere of Studio Dan Meiners and perhaps the Samogon punch from Phenix Spirits and frozen beer cocktail from Snow & Co. Still, the acoustics made it hard to catch all the details. I've done my best to describe what they all cooked; please click "comment" if you've have more to add.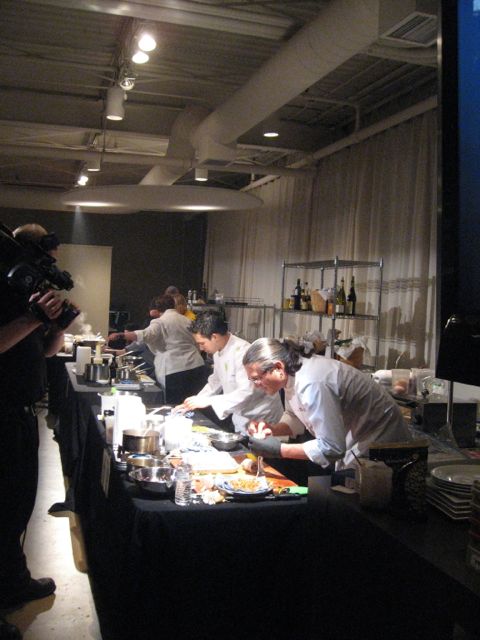 Patrick Ryan put his distinctive Mexican street food stamp on each dish, starting with what he called an "oyster stew kind of thing" with a chipotle kick and sweetness from the parsnips. He followed with chilaquiles that combined rabbit chorizo, tortilla chips, tomatillo salsa, a fried egg and crema. Dessert worked in blueberries and pecans; I'm certain the parsnips where there, too, but I'm not sure where.
Jennifer Maloney began with pan-fried oysters served with a celery root and parsnip slaw. Her main was braised rabbit on a bed of lentils and spinach, with guanciale ravioli in a San Marzano tomato-parsnip-sherry sauce. She finished with a spiced blueberry-parsnip cake with whipped cream.
And Smith? He wowed the judges with oysters served with pickled carrots and parsnips, a pistachio-stuffed rabbit roulade with crispy shallots and parsnips and a flourless chocolate and parsnip torte.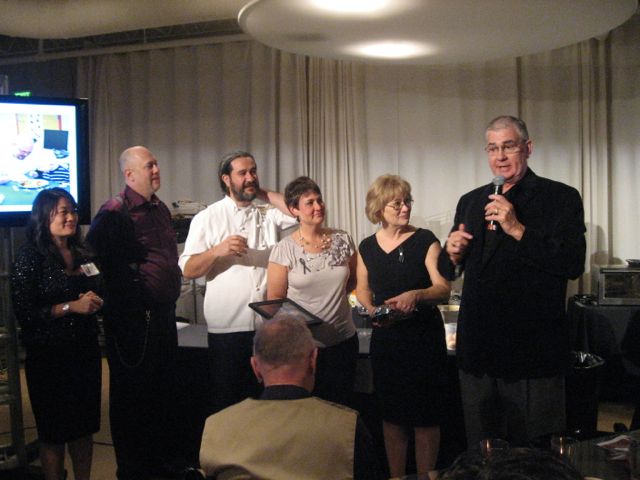 Theirs wasn't the only culinary creativity going on, though. Lon Lane's Inspired Occasions won People's Choice Award for Best Tasting Station for its Reuben sandwiches and cured salmon. There were yummy things from The American, Baby Cakes, Blue Bird Bistro, Cafe Sebastienne, Catering by Design, The Classic Cup, Port Fonda, The Rieger, The Roasterie, Room 39, Michael Smith and Starker's Restaurant.
That last gave me pause. The late John McClure, chef and owner of Starker's, was a long-time supporter of CCVI and even competed in Food Fight 2. Howard Hanna—the winner of that event, chef/owner of The Rieger Hotel Grill & Exchange and McClure's friend—offered a remembrance of the man many simply knew as Big Country.
He then introduced McClure's family, who continue to operate Starker's until a buyer can be found. It was a lovely moment, one that reminded me of how fleeting our chance to do good, and how lasting that good can be. To John, to the chefs, to CCVI, to all those who supported the Food Fight. Well done.