Coffee looms large in my imagination lately, thanks to an upcoming article about the Broadway Cafe & Roasting Company's 20th anniversary. I had a deeply satisfying cup of Mexican Chiapas there yesterday when I stopped to interview co-owner Jon Cates and head roaster Brian Phillips. But today I'm alone in my office, and the closest thing to a barista is at least 10 miles away.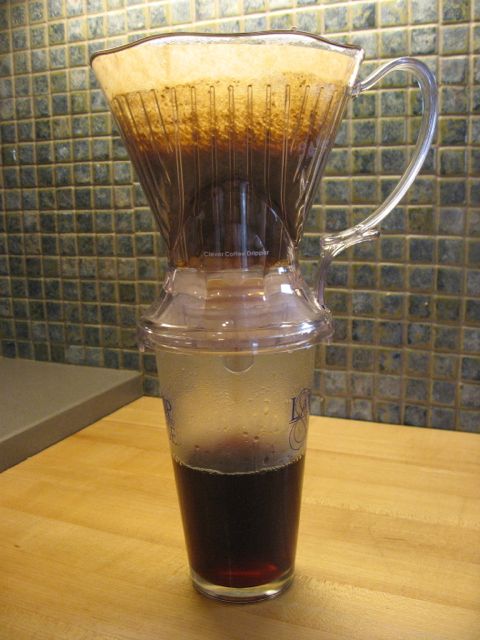 You wouldn't think that would trouble someone otherwise addicted to culinary pursuits, but my general anathema for all types of equipment extends to the coffee maker. I don't use it. Ever.
Usually this means my coffee consumption is limited to whatever quantity the husband made before work. But today—oh happy day—I have a brand-new Clever Coffee Dripper.
Yesterday's rounds also included a stop at About the Coffee, where I bought this ridiculously easy-to-use plastic gadget for about 16 bucks. The LAB's Jason Burton even taught me how to use it: just place one #4 paper filter in the Clever Coffee Dripper, pre-wet the filter with boiling water, add 22 grams (or about 2 scoops) freshly ground coffee, pour in 12 ounces of water just off the boil, cover and allow to steep for four minutes. You can give it a stir after a minute and a half, or not.
The Clever Dripper falls somewhere in between a French press, which relies on immersion to extract a coffee's flavor, and a pour-over, where the water passes quickly over the coffee, extracting as it goes. The result is "full-bodied coffee without the French press's sediment," according to Cook's Illustrated.
Certainly it was the best cup of coffee I've ever made for myself.
To see the Clever Dripper in action, and to learn how to avoid the evils of over-extraction, check out the Sweet Maria's site. Serious Eats also provides good step-by-step instructions. As contributor Liz Clayton writes, the Clever Coffee Dripper is "childishly fun to dispense coffee from." How can you resist?