Few recent Plaza openings have made as big a splash as Gram & Dun. Maybe it's because local restauranteur Alan Gaylin's already built a following with BRGR Kitchen + Bar and Urban Table in Prairie Village. Maybe this spring weather has folks salivating over the pretty patio. Or maybe I'm just excited because Gram & Dun hit two of my sweet spots during a recent visit: shrubs and mezcal.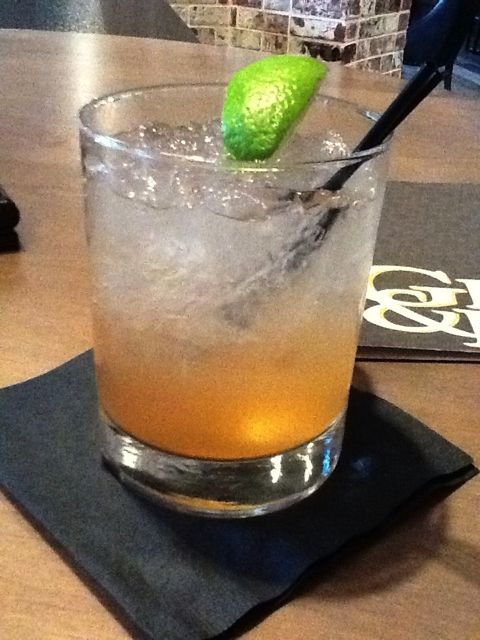 Shrubs—usually made with fruit, vinegar and sugar—make for nicely savory cocktails and delicious non-alcoholic sodas. They're appearing on more cocktail menus around town, so I wasn't surprised to see strawberry-habañero and pineapple-rosemary versions at Gram & Dun.
But I'd also just wrapped up an article for the Kansas City Star about mezcal (Mezcal Makes a Splash), so I was a little thirsty for that. Then I spotted the Mezcal Mule, which combines Del Maguey's Crema de Mezcal, the strawberry-habañero shrub, lime juice and Gosling's ginger beer into a drink that perfectly balances mezcal's smoke and earth with a fruity sweetness and peppery kick.
Bartender Erica Pyles had just started another batch of the shrub—cut strawberries and sugar were macerating on the bar when I arrived. Once they get nice and juicy, Pyles mixes in white wine vinegar and chopped habañeros. Yes, the menu says jalapeños, but Pyles assures me they use habañero chilis (a squat little orange pepper that's 70 times hotter than a jalapeño, according to the Scoville Scale). The shrub then sits in the refrigerator for about four days before the solids are strained off, leaving an innocuous looking pink syrup that's surprising in its heat.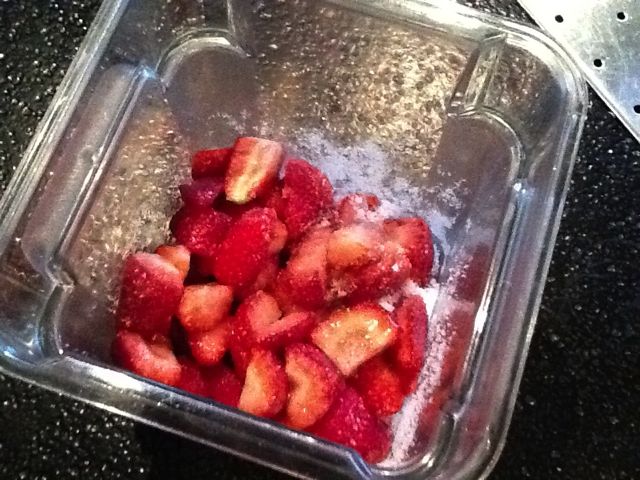 Pyles credits the Mezcal Mule and shrub recipes to fellow bartender Scott Tipton; I'm not sure who came up with the Hell's Bells—Russell's Reserve 6-year-old rye, Bell's Two-Hearted Ale, black-tea infused Lillet Blanc, a pineapple-rosemary shrub, lemon juice and orange bitters. The remaining cocktail list mixes solid classics such as the Sazerac and Blood & Sand with creative Plaza shopper pleasers made with Tanqueray, Patron and Ketel One Citroen.
Of course, there's more to Gram & Dun than cocktails. It's also a self-styled gastropub, a concept new to Kansas City but one that we spent plenty of time coming to know while living in London some years ago. The basic formula is seasonal food served in a casual, pubby atmosphere alongside great beer.
The food is indeed delicious, judging by the short rib grilled cheese I ordered and descriptions of the sweetbreads, French onion dumplings, blackened shrimp and grits and sweet tea braised pork shoulder I didn't. There's as good a Boulevard selection as you'd expect, as well as worthy entries from the likes of Schlafly, Nebraska Brewing, Green Flash, North Coast and Lagunitas.
I dropped by solo for a late lunch at the bar, which is at the rear of the restaurant, under the dome, but I can imagine the place is likely packed out on sunny spring evenings. Still, it will be worth pushing my way back to the bar for another Mezcal Mule. Or maybe even two.
Mezcal Mule: Fill an Old Fashioned glass partway with crushed ice. Add 1-1/2 ounces Del Maguey Crema de Mezcal, 1/2 ounce strawberry-habañero shrub and 1/2 ounce lime juice. Top with Gosling's ginger beer. Garnish wit a lime wedge.
Strawberry-habañero shrub: Hull and halve about one pound strawberries. Mix in about a cup or so of sugar. Allow to sit at room temperature for about four hours. Add seeded, chopped habañero chilis to taste and enough white wine vinegar to cover fruit and peppers. Cover tightly and refrigerate for about four days. Strain solids from syrup. Place shrub in a clean jar, cover and refrigerate. Please note that quantities and times are approximate. Making shrubs appears to be more art and personal taste than science.