It's funny how things change. Take Tuaca. The first time I tasted this Italian brandy liqueur, it was at Jasper's. Not the new Jasper's, but the original at 75th and Wornall, maybe 20 years or so ago. It was an elegant thing back then, served in a warm snifter and meant to be savored slowly.
Fast forward to last Sunday, when a friend and I stopped at Fuel in Overland Park to check out Tuaca's Drinks & Ink tour. Body artist Corey Miller was already onstage with his band, cranking out rockabilly-blues-surf tunes for a surprisingly diverse crowd. A new bottle designed by Miller was also on display, done up in thermochromatic ink and encased in a guitar ice sculpture.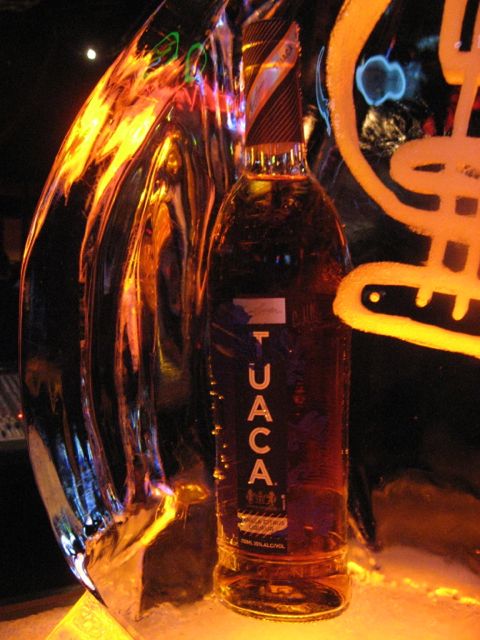 So, how does a brand go from old-world to party bar?
In the case of Tuaca, the first step is getting purchased by a company focused on boosting sales. Brown-Forman acquired 45 percent of Tuaca's Italian maker, Distillerie Tuoni e Canepa, in 2000; it bought the remaining stake in 2003.
Brown-Forman invested in the brand, updated its packaging and modernized its image by positioning Tuaca as something served as a shot or mixed into cocktails. By 2006, the company had a hot brand on its hands. Momentum continued, with Tuaca helping to boost Brown-Forman's net sales growth in 2011.
What about the product, though? It's hard to say. I haven't tasted Tuaca for years, and sipping it chilled from a glow-stick version of a shot glass doesn't perhaps show the liqueur at its best. There was the familiar vanilla-citrus sweetness, underpinned with cinnamon and spice, with enough brandy backbone to remind me of its origins.
As the story goes, the liqueur was first created for Lorenzo de Medici back in the days of the Italian Renaissance. Gaetano Tuoni and Giorgio Canepa rediscovered the recipe in 1938 and named it Tuaca. It's still blended from Italian brandies that have been aged anywhere from 3 to 10 years.
Tuaca shots and cocktails seemed to be more of a girl thing at Fuel, which isn't unusual when it comes to liqueurs, although a few guys were doing Tuaca bombs. I think I'd still prefer mine in a snifter, but I'm not one to argue with success.
What is it? An Italian vanilla-citrus liqueur, 35% ABV, $23/750mL
How do you use it? Chill it and serve as a shot or go old school by serving it neat in a wine glass or brandy snifter. It also adds a rich, citrusy sweetness to cocktails.
Try making… Tuaca Sangria. Combine 1-1/2 ounces Tuaca, 1 ounce Cognac, 1-1/2 ounces red wine, 1/2 ounce fresh-squeezed lemon juice, 1/4 ounce agave, 1/2 ounce fresh-squeezed orange juice and 1 ounce club soda in an ice-filled mixing glass. Stir, and then strain into a wine glass. Garnish with orange and lemon slices.