In 2007, Ryan Maybee and Doug Frost started a little thing called the Greater Kansas City Bartending Competition. Well, little in comparison to what that event's grown into—the Paris of the Plains Cocktail Festival. The week-long event's already underway, and I wrote about it in today's Kansas City Star (KC's cocktail culture births Paris of the Plains festival). The main point? That this festival celebrates not just booze, but the city's heritage and culture.
"It's not just about beverages," says Brandon Cummins, who together with Maybee and Frost created the event. "It's about Kansas City's culture."
There are dinners and tastings—tequila at Mestizo, Angostura bitters at The Rieger, agave-based spirits at Crayola Café and wine-tales (wine-based cocktails) at The American Restaurant.
There's music—Snuff Jazz, a self-described experimental and improvisational jazz project, will play at Grünauer while Justus Drugstore bartender Chris Conatser serves up Horsefeathers (whiskey and ginger beer). Mark Lowrey and the New Jazz Order will offer a Tanqueray-sponsored Count Basie tribute at the not-quite-opened Kill Devil Club.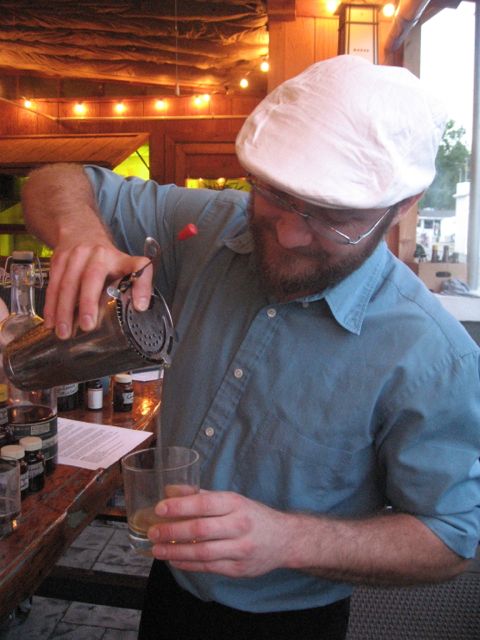 There are parties—cocktail competition finalists Berto Santoro, Paige Unger and Conatser cracked open some Barrel Aged Negronis at Extra Virgin last night, but there's still the Midwest Mohawk Melee. It's at The Rieger, where mohawked competition finalists Jenn Tosatto, the bar's manager, and Matt Seiter, bar manager of Sanctuaria in St. Louis, will duke it out. KC Magazine's also hosting it's "Best of KC" awards at The Gallery with sponsor Dark Horse Distillery on Saturday night.
There's philanthropy—KCPT is the beneficiary of the PoPFest Gala on Monday. It's not just any gala, though. Attendees will also get to judge the final round of the Washington Cup, the only competition exclusively for American-made spirits and liqueurs.
And of course there's the Paris of the Plains Bartending Competition on Sunday, when a dozen finalists including both familiar KC faces and bartenders from Colorado, Illinois, Pennsylvania and Oklahoma will take the stage at The Uptown.
But PoPFest is also an incredible opportunity to learn from some of the industry's greats. It's a testament to the professionalism and reputations of the festival's organizers that they've managed to collect all these guys in our city, for our first cocktail festival. As much fun as all the other stuff is, you definitely don't want to miss these:
The Soul of Agave, 10:30a Friday—Steve Olson and Ron Cooper will discuss tequila and mezcal, offering tastings of both the spirits and cocktails made from them. Olson is a nationally known spirits writer and educator with accolades too numerous to list here. Ron Cooper is founder of Del Maguey Single Village Mezcals, and is responsible for almost single-handedly spreading mezcal throughout the U.S.
Punch & Judy, 1:15p Friday—David Wondrich will present a session on Irish whiskey and its role in punch. But you will undoubtedly get much, much more than just whiskey and punch. Wondrich wrote Imbibe! and Punch, knows more about where cocktails came from than anyone and is perhaps the most entertaining historian you'll ever meet.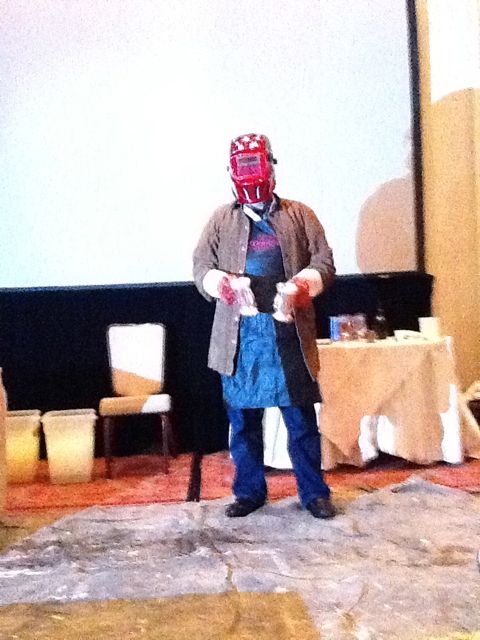 Paris of the Plains, Sez Who? 3p, Friday. John Simonson, a journalist with a love of what he calls street-level history, wrote Paris of the Plains. It's packed with compelling vignettes that would otherwise be lost to the newspaper archives, like Lou Gehrig's final game which really, truly was played in Kansas City. I'm told his session will include a bit of a reveal, something he turned up in his research that has until now been riding on hearsay. It's killing me to miss it.
Double Distilled, Double Scotch, 10:30a, Saturday. Paul Pacult, founder of F. Paul Pacult's Spirit Journal, will lead a Scotch whisky tasting. Haven't heard of him? He's only the country's best writer on the topic.
Mother's Ruin or Gin Palace? 1:15p, Saturday. This will be an exceptional gin tasting and discussion of the spirit's complicated history. It's led by a trio who knows its way around a bottle: Angus Winchester, Tanqueray's global ambassador (and who was recently named Best International Brand Ambassador at the 2012 Tales of the Cocktail Spirited Awards); Chris Patino, the manager of trade education for Pernod Ricard USA; and Jim Ryan, brand ambassador for Hendrick's Gin.
On a Dessert Island, 3p Saturday. Ryan Maybee co-owner of The Rieger and Manifesto, is teaming up with chocolatier Christopher Elbow to show how beautifully alcohol and chocolate play together. Maybee recently upped his cocktail cred (if such a thing was possible) by competing against 15 bartenders from 13 countries in the final round of Angostura's 2012 Global Cocktail Challenge and heading a team from Manifesto in the Tales of the Cocktail Bar Room Brawl. Elbow's expertise goes way beyond chocolate to include ice cream, beer and, indeed, cocktails. Plus, he's really, really nice.
BeerTails! 4:30p Saturday. Andy Jenkins, Certified Cicerone (not an easy certification to earn) with Boulevard Brewery, will explain the synergy between beer and cocktails with the help of Ryan Maybee and Ryan Conklin from Euclid Hall Bar & Kitchen in Denver. I'm partial to a shandy, myself, but I suspect this trio will take it way beyond that simple mix of beer and lemon-lime.
And finally, there's Dale DeGroff. His event—billed as Dale DeGroff's Night on the Town—is part seminar, part party, part you'll-regret-it-if-you-miss-it experience. DeGroff is credited with resurrecting the classic cocktail during his stint at New York's Rainbow Room, and his The Craft of the Cocktail is required reading for anyone who owns a shaker. You can immerse yourself in 40 year's worth of DeGroff's cocktail memories on Thursday night, but don't think it's all old-timey stuff. Talking to Dale is like mainlining current cocktail culture, trends and perspective. Proceeds benefit The Museum of the American Cocktail in New Orleans.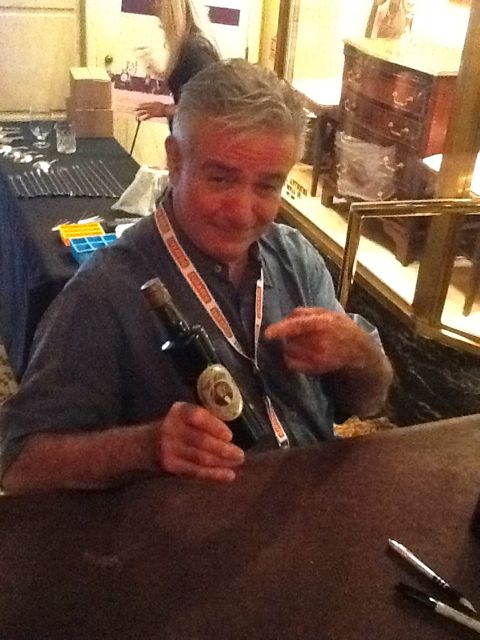 Oh, and for what it's worth, Frost, Olson, Wondrich, Pacult and DeGroff are all partners in Beverage Alcohol Resource. In other words, the guys responsible for training some of the best bartenders in the country. You could say they know their stuff.
Most of these are ticketed events (some have a cover charge—go to the PoPFest events page to figure out which is which) but if you have even a passing interest in cocktails and their role in Kansas City's culinary culture, they'll be worth every penny.