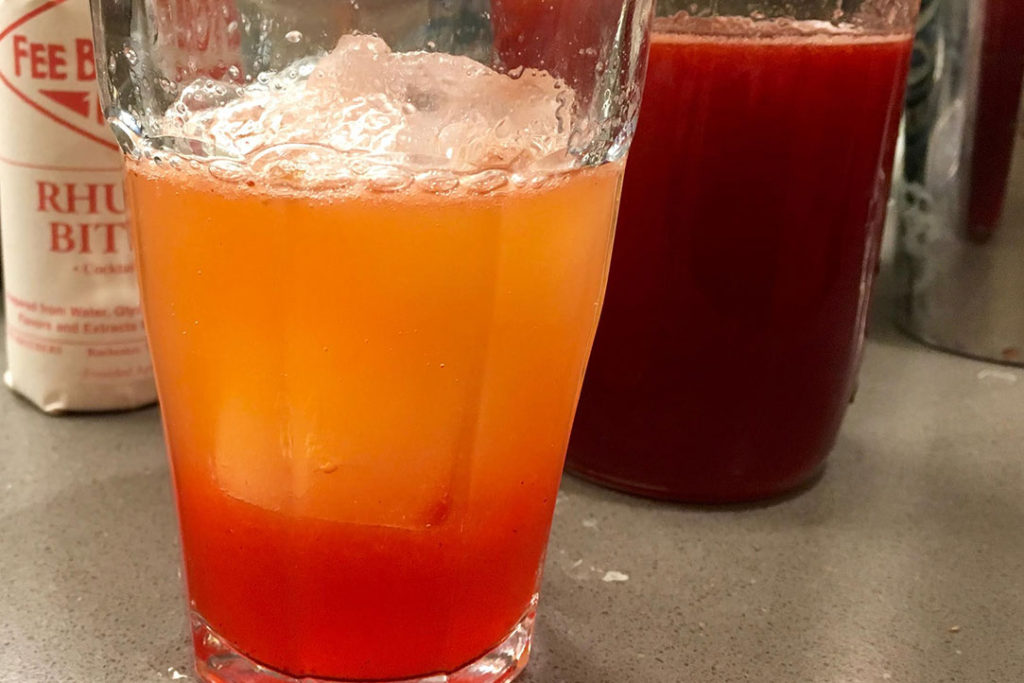 It's mid-January. The wind chill is below zero, the roads treacherous and the schools closed. It's definitely not strawberry weather, but strawberries are what I found when rummaging through the freezer this morning. With package in hand, I realized there was only one thing to do: turn them into a shrub.
There really wasn't any choice. My article on low-ABV and non-alcoholic cocktails recently ran in the Kansas City Star's food section, and my kiddos were clamoring for another go at the Strawberry Blonde. They'd tasted bartender Jacob Bowyer's sweet-tart strawberry-ginger creation while accompanying me on the story's photo shoot at Gram & Dun, and it seemed as good as any purpose for the newly discovered berries.
Bower's reveled in creating drinks like this since he took over as the restaurant's head bartender a year and a half ago. His was initially something of a management approach—standardize the non-alcoholic offerings, make better use of ingredients already on hand, improve efficiency—but it quickly became a satisfying culinary challenge. Alcohol hides a multitude of sins, so combining and balancing flavors can be more difficult. Getting it right, though, has paid off.
"It's been a big success for us," Bowyer says. "We have a lot of people who come in and celebrate. Sometimes someone's pregnant and they don't want anybody to know. They can look like they're having a fancy cocktail with everybody else."
Low-ABV and non-alcoholic cocktails have proven especially popular on Gram & Dun's patio, where customers sometimes linger for hours during the warmer months. Bowyer wanted to serve what he calls sessionable drinks, meaning drinks low enough in alcohol (or without any at all) that you can enjoy more than one. Two years ago, beer cocktails were the thing. Last summer, Bowyer riffed on wine coolers and sangria.
Now that the patio's slick with ice, he's moved the menu inside with drinks like the Snow Globe, an ersatz Champagne cocktail made with a sugar cube, St. Elizabeth Allspice Dram, Clear Creek Cranberry Liqueur and Prosecco. Of the N/A offerings, the most popular is the Wild Cider (muddled fresh blackberries shaken with lemon juice, vanilla syrup and Louisburg Apple Cider). And there's the Tiki-ish Beach House, with pistachio orgeat, lemon and pineapple juices, cream and grenadine.
Our photo shoot favorite, though, was the Strawberry Blonde. It begins with a shrub, a sweet-tart syrup made by macerating fruit in sugar, then combining the juice with vinegar. The technique is old, so old that the word itself derives from the Arabic "shrab," meaning drink, according to Wayne Curtis's And a Bottle of Rum (Crown Publishers, 2006). It makes sense, says cocktail historian David Wondrich. Citrus drinks were commonplace centuries ago, and lemon juice-based shrubs remained essential to proper punch into the seventeenth century.
Still, "not everyone could get lemons," said Wondrich, the author of Punch (Perigee, 2010). "As early as the 1690s, people were substituting vinegar for lemon juice. If you do it right, it can be very tasty."
Indeed. Colonial Americans used fruit, sugar and vinegar to make what Curtis described as "a dense, intensely flavorful syrup that could preserve the pleasing bite of the fruit into winter and beyond." It was a staple food in many ways, for many generations, but then gradually disappeared from pantry shelves until about a decade ago. That's when historians like Wondrich and culinarily curious bartenders began resurrecting them. Even I wrote about shrubs for the Kansas City Star in 2012.
The Internet's now replete with recipes, many demanding you follow very specific instructions. Each method has its virtues and yields slightly different character, but it doesn't have to be complicated. Take Bowyer's approach. He simply slices two quarts of strawberries (frozen or fresh), mixes them with two cups of sugar and leaves the bowl on the counter awhile. Once the berries are all soft and juicy, Bowyer strains the juice, adds a bit of fresh ginger juice and red wine vinegar and refrigerates.
It's truly delicious in his Strawberry Blonde, or any other cocktail that calls for a berry-ish shrub. Don't like ginger beer? Don't like ginger beer? Then just mix with club soda. Want a bit of kick? Add an ounce or two of tequila, gin or vodka.
Whatever you do, don't toss the sweetened strawberries when you're done. Bowyer likes putting them on cereal or ice cream, or just eating them straight from their container.
"They're just like dessert," he says.
And just like that, it's strawberry weather.
This ombre-hued mocktail from Jacob Bowyer, head bartender at Gram & Dun, is as pretty as it is refreshing. As a bonus, the Fee Brothers Rhubarb Bitters are also alcohol-free.
Strawberry Blonde
Ingredients
1

ounce

strawberry shrub

see instructions below

3/4

ounce

lemon juice

2

dashes

Fee Brothers Rhubarb Bitters

4

oz

Gosling's Ginger beer

1

lemon wedge

for garnish
Instructions
Combine shrub, lemon juice and bitters with ice in a shaker. Shake, and then strain into an ice-filled Collins glass. Top with ginger beer. Garnish with lemon wedge.
Recipe Notes
*To make strawberry shrub: slice 1 quart strawberries and combine with 2 cups sugar. Stir, then allow to sit at room temperature for about four hours or until the berries have released most of their juice. Strain, reserving juice and berries separately. For every cup of strawberry juice, add 1/8 ounce ginger juice (either make your own or look for bottled brands like Ginger People) and 1/4 ounce red wine vinegar. Refrigerate for up to one month. Reserved berries can be used to top ice cream or oatmeal, or eat them straight from the bowl.