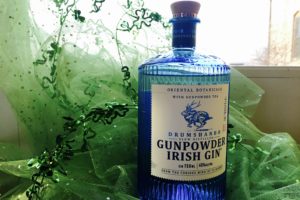 St. Patrick's Day unleashes all manner of drinks on thirsty celebrants. Some are fantastic, like the Irish whiskies I just wrote about for the Kansas City Star. Some are, well, less so. Green beer and tepid Irish coffee come to mind.
But one is entirely surprising—Irish gin. At least, I was surprised when I spotted a gleaming blue bottle of Drumshanbo Gunpowder Irish Gin on the shelf at Browne's Irish Market in early March. Even though craft gins are thick here in the U.S., it hadn't occurred to me that Ireland's new wave of distilleries would be up to the same thing.
It makes sense, though. The category's exploded with gins that often upstage the required juniper with a world's worth of spices, fruits and other botanicals. Chalk it up to any number of factors: white spirits consumers grown bored with vodka, creative bartenders upping their gin-and-tonic ante, even the popularity of Downton Abbey. Whatever the reason, gin's gaining momentum, and Ireland's along for the ride.
"There are a lot of Irish gins coming up," says George Vial, who is originally from northwest Ireland and is now the regional sales manager for CSM Beverages, a broker that markets Knappogue Castle Irish Whiskey and other spirits brands here in K.C. "Ireland traditionally was a gin country."
Irish ports were important to the spice trade as far back as the fifteenth century, according to the Port of Galway's history. That meant spices were readily available to the more than 200 licensed distilleries (and probably thousands of unlicensed ones) Ireland boasted throughout the 1700s and 1800s. Those produced a diverse range of poitín, whiskey, gin and even absinthe, the folks at Glendalough Distillery say.
That of course all went away when the country's distilling industry died off as a result of trade wars, actual wars, famine, new distilling technology, Prohibition in America and other factors. By the early 1980s, only two distilleries were still in operation. They were joined late that decade by a third, and the Alcoholic Beverage Federation of Ireland now counts 18 in operation.
Irish whiskey was the first spirit to recover and is now the fastest-growing category worldwide. Irish gin is expanding, too, with the ABFI using phrases like "breakthrough" and "go global" to describe the expected growth in exports. Sixteen Irish gins were on show at the 2017 Irish Gin and Tonic Fest, and they offer an astounding array of ingredients, from elderberry and rhubarb to strawberries, sloes, damsons, crab apples, blackberries and even seaweed.
A few have launched in bigger U.S. markets like Washington, D.C. and New York, but Kansas City's only seen a trickle so far. Actually, less than a trickle. Drumshanbo is the only brand I was able to find here.
That's not a bad thing, though, as the gin is lovely. The distillery, in Ireland's border region, combines juniper, angelica root, orris root, coriander seed, cardamom, caraway, star anise and locally harvested meadowsweet in copper pot stills. Gunpowder tea, Chinese lemon, oriental grapefruit and Kaffir lime go into the vapor basket. The gin is then rested 14 days before bottling.
The nose was a mix of juniper and citrus, and barely smoky from the tea, which Drumshanbo describes as "green tea that has been slowly dried, the delicate leaves then carefully rolled into shiny pellets." The first sip was London Dry-ish and a bit oily, but fresh and spicy, giving way to a lovely smooth sweetness with a tannic hint (again, probably from the tea) at the end.
Lazy me, I sipped it over ice with a couple dashes of orange bitters, a pink gin without the pink of Angostura. But it would absolutely shine in a gin and tonic. The Drumshanbo web site claims The Davy Mac was voted Ireland's Best Gin & Tonic, I'm happy to take their word for it. Certainly finding out will be a lovely way to celebrate on Saturday.
The Davy Mac
Ingredients
1.25

ounces

Drumshanbo Gunpowder Irish Gin

4.5

ounces

Premium Elderflower Tonic water

1

thick wedge fresh red grapefruit

for garnish

3

raspberries on a skewer

for garnish
Instructions
Pour gin into a tall, ice-filled glass. Top with tonic water and garnish.