In 2007, Ryan Maybee and Doug Frost started a little thing called the Greater Kansas City Bartending Competition. Well, little in comparison to what that event's grown into—the Paris of the Plains Cocktail Festival. The week-long event's already underway, and I wrote about it in today's Kansas City Star (KC's cocktail culture births Paris of the Plains festival). The main point? That this festival celebrates not just booze, but the city's heritage and culture.
"It's not just about beverages," says Brandon Cummins, who together with Maybee and Frost created the event. "It's about Kansas City's culture."
There are dinners and tastings—tequila at Mestizo, Angostura bitters at The Rieger, agave-based spirits at Crayola Café and wine-tales (wine-based cocktails) at The American Restaurant.
There's music—Snuff Jazz, a self-described experimental and improvisational jazz project, will play at Grünauer while Justus Drugstore bartender Chris Conatser serves up Horsefeathers (whiskey and ginger beer). Mark Lowrey and the New Jazz Order will offer a Tanqueray-sponsored Count Basie tribute at the not-quite-opened Kill Devil Club.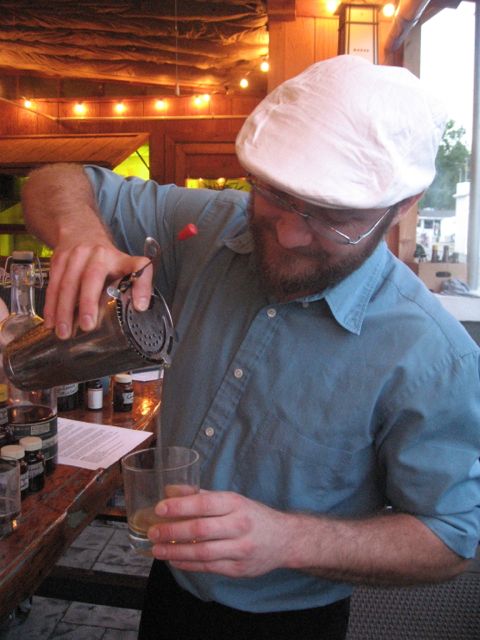 There are parties—cocktail competition finalists Berto Santoro, Paige Unger and Conatser cracked open some Barrel Aged Negronis at Extra Virgin last night, but there's still the Midwest Mohawk Melee. It's at The Rieger, where mohawked competition finalists Jenn Tosatto, the bar's manager, and Matt Seiter, bar manager of Sanctuaria in St. Louis, will duke it out. KC Magazine's also hosting it's "Best of KC" awards at The Gallery with sponsor Dark Horse Distillery on Saturday night.
There's philanthropy—KCPT is the beneficiary of the PoPFest Gala on Monday. It's not just any gala, though. Attendees will also get to judge the final round of the Washington Cup, the only competition exclusively for American-made spirits and liqueurs.
And of course there's the Paris of the Plains Bartending Competition on Sunday, when a dozen finalists including both familiar KC faces and bartenders from Colorado, Illinois, Pennsylvania and Oklahoma will take the stage at The Uptown.
But PoPFest is also an incredible opportunity to learn from some of the industry's greats. It's a testament to the professionalism and reputations of the festival's organizers that they've managed to collect all these guys in our city, for our first cocktail festival. As much fun as all the other stuff is, you definitely don't want to miss these: