I've always preferred Cognac in my Sidecars. It's what my husband used the first time he made one for me, and it's now hard to settle for plain old brandy. So I was happy when Ryan Maybee showcased the drink during a Cognac tasting hosted by Alexis Ganter of Glazer's at The Rieger Hotel Grill & Exchange.
The occasion? To introduce Landy Cognac to Kansas City bartenders. The take-away? It's delicious stuff, in cocktails and on its own.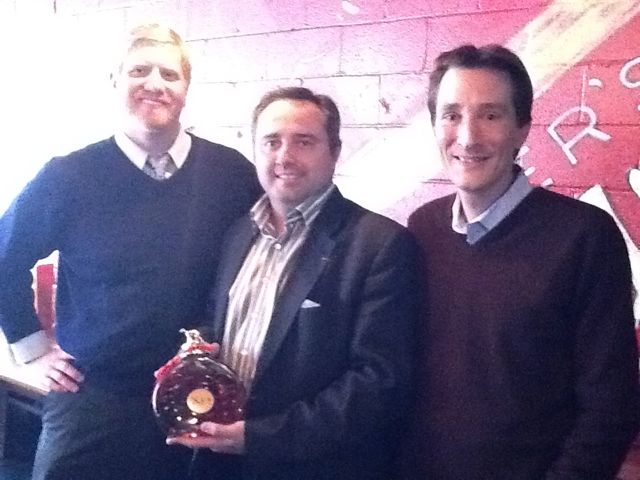 Landy's a small Cognac house (at least compared to giants like Hennessy) owned by Cognac Ferrand, a boutique spirits producer that also makes Pierre Ferrand Cognac and Citadelle gin. And small is good, said Jean-François Bonneté, vice president of W.J. Deutsch & Sons Ltd.'s spirits division, the brand's importer. That allows Landy to do things like use copper pot stills and distill on the lees, meaning some sediment is left in during the first distillation.
"All those organic components give it aromatic potential," Bonneté said.
Landy's Cognacs are blended from those of the Grande Champagne, Petite Champagne and Fins Bois regions and aged in Limousin oak barrels. VS Cognacs are required to age a minimum of 2-1/2 years, although Bonneté said those in Landy's VS average 6 years.
The result is a pale gold Cognac that smells of flowers and citrus and tastes slightly of butterscotch, caramelized bananas and chocolate.
We tasted Landy's range in wine glasses; Bonneté said he's not sure where snifters came from, or the ideas of warming or swirling Cognac before sipping it. Warming is essentially re-distillation, while swirling "breaks" the aroma—skip them both, Bonneté said as the VSOP was poured.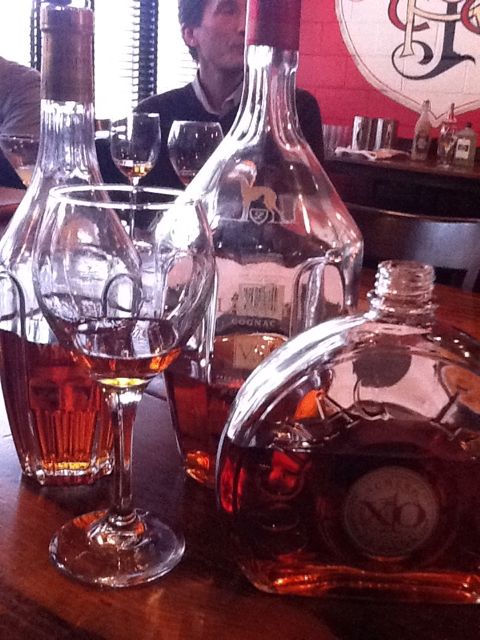 Again, Landy's version is aged longer than legally required—around 8 to 12 years, compared to the 4-1/2 year baseline. The extra age imparts more texture and warmth, along with an earthiness and a bit of apple and pear.
The XO  N°1 was that and more. A sweeter nose, with more oaky vanilla (not surprising, considering the Cognacs in this blend run 20+ years in age). Deeper flavors, with hints of dried flowers, stewed pears and prunes, and a long, textured finish.
It's certainly not the kind of thing you'd put in a cocktail shaker—that's what the VS is for. And Bonneté is all for that.
"Mixology means education, and when you educate the consumer, you change them," Bonneté said.
Which brings us back to that Sidecar.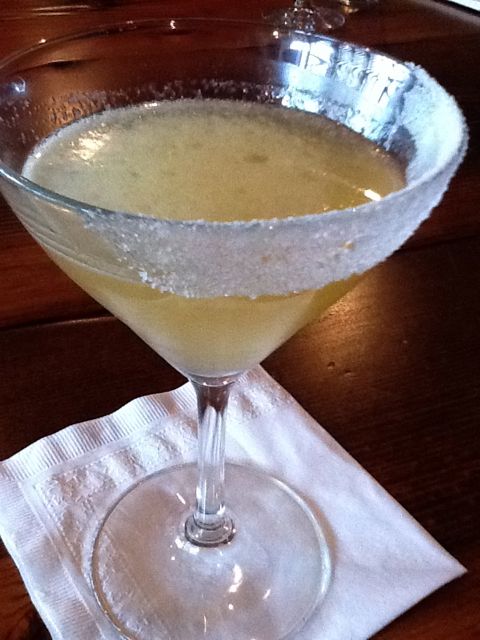 The husband's easy at-home method is to simply combine equal parts Cognac, Cointreau and freshly squeezed lemon juice in a shaker; shake with ice, strain into a cocktail glass. I like it. A lot. But I might have to try recreating Maybee's version soon. It was just too good.
Landy Tasting Sidecar: combine 1-1/2 ounce Landy VS Cognac, 3/4 ounce Cointreau, 3/4 ounce fresh lemon juice, 1/2 ounce fresh orange juice and 3 dashes orange bitters in a cocktail shaker with ice. Shake and strain into a glass garnished with a sugared rim.